Greetings to the citizens of Kimberling City:
Since it has been a while since the last newsletter, I have a lot to cover. The City had a great 2020, and we have a lot of accomplishments to note.
The City opened two parks last year. In June, the City opened a pocket park with a playground on Lakeshore Drive. This is the first, Public/City Owned, park built in Kimberling City. Since the opening, it is being enjoyed by many children who live in the city. The park is also providing a safe place to play and helps keep our streets safer for all. We do need to address some issues at the park. The park has seen vandalism of the playground equipment and signs. Also, trash and mulch have been scattered across the park. These issues require costly time to repair and clean up by our Public Works Department. Parents and citizens, please help with the care of the park. If you see an issue at the park that needs to be addressed. Please call the non-emergency police dispatch number at 417-339-9117. If we all take care of the park, it will provide enjoyment for many years to come.
The second park opened in 2020 was a dog park located behind city hall on Marina Avenue. This park is used almost daily, regardless of weather. It is fun to see all types and sizes of dogs that come to play. This park, built with no budgeted funds in 2020, was made possible through the help of sponsors, donations, and proceeds from the sale of a few vacant lots in the city. Thank you to everyone who helped make this park possible, especially the Park Board and Public Works Department.
The City was able to pave two streets and seal three others in 2020. Street repairs will resume in 2022 when funds are available. Please remember the biggest form of revenue that will help fund street repairs is sales tax. Shopping local brings in sales tax dollars and helps give back to the community.
Some other things to look forward to in 2021 are new developments in the City. There are a number of new residential homes being built in the area, a new boat storage facility is being built on Marina Way, the Elk's Lodge is being rebuilt, and the Senior Housing project that will be behind Harter House is underway, Pier 28 Restaurant located at Port of Kimberling is almost completed and ready for opening, and Lake Time Bistro will be opening at the Buttonwood Center.
Although the COVID pandemic caused most of the City events to be cancelled in 2020, we are hope to resume them in 2021. Keep your eye out on Facebook, and the City website in the future for more information.
Overall, Kimberling City is going strong. Let's stay strong and remember, during difficult times, communities must stick together. We need to help each other and make sure that our local businesses are supported.
I thank you all for allowing me to serve you, and for giving me your support. All the best to you and let's work together to make 2021 great!
Sincerely,
Bob Fritz
Mayor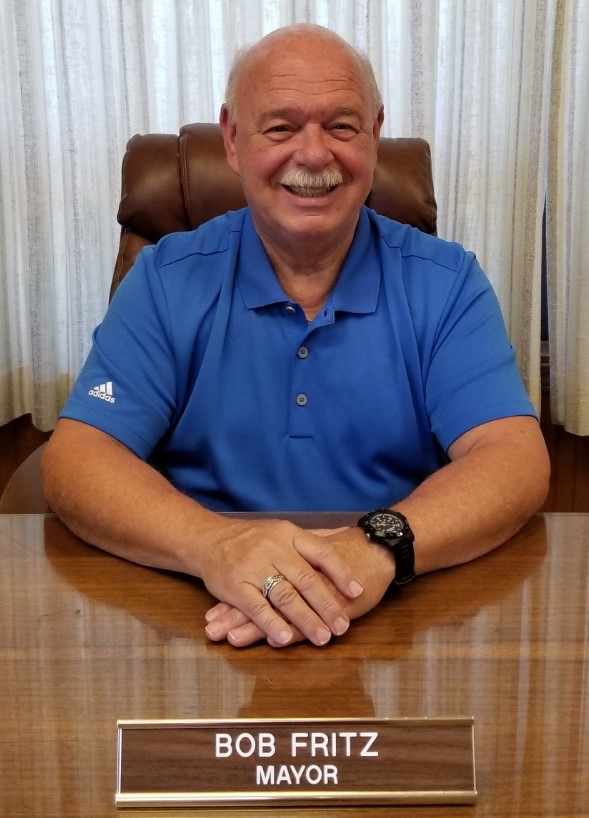 Bob Fritz - Mayor
Email Bob Fritz
Physical Address:
34 Kimberling Blvd Kimberling City, MO 65686

Mailing Address:
PO Box 370,
Kimberling City, MO 65686

Phone: (417) 739-4903
Fax: (417) 739-2752